Transportation of Solid Waste to Solid Waste Disposal Sites (Cover Your Load)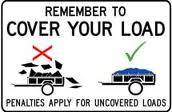 Solid waste conveyed to any solid waste disposal site within the District, whether a landfill, transfer station, bailing station, or recycling facility, must be securely covered.  Securely covered is defined as a load that is securely covered and fastened to the transport vehicle in such a manner that the waste shall not, and cannot, be strewn upon the streets, roads and highways within Fremont County.  Unsecured loads, including bagged waste, must be secured to the transport vehicle with a separate lid, tarp, or other means ensuring materials cannot blow or travel out of the car, truck, trailer, or any other means of transport.
Any person who transports waste to a solid waste disposal site in violation of this Section shall have imposed upon them the following:
1.  Effective January 1, 2014, a minimum $8.00 fee will be applied.